Blog Action Day is about bloggers trying to raise awareness by everyone blogging about the same theme for a given day. It's one massive group writing project and this year's theme is Climate Change.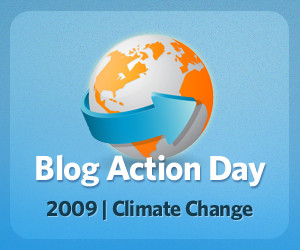 Theme
Climate Change
Official quote: "Blog Action Day is an annual event that unites the world's bloggers in posting about the same issue on the same day on their own blogs with the aim of sparking discussion around an issue of global importance. Blog Action Day 2009 will be the largest-ever social change event on the web. One day. One issue. Thousands of voices."
Rules
Write a blog post related to the theme. Here are some ideas.
Recommended: reuse the official logo at right or one of the other badges on your own post.
To submit your entry, the post must contain a link back to the official website.
Submission Deadline
Thursday October 15th 2009
Results
It's not clear from the official website when the results will be posted, or if they'll be posted at all. However, they have been posted in past years so I expect that the results will be posted again this year, as they are submitted.